A Japanese garden that resonates in the heart
Kotonoura Onzan-Soh-En(Garden)
Designated in 2010 as a place of national scenic beauty (the garden) and important cultural properties (the buildings)
Just before Wakayama Marina City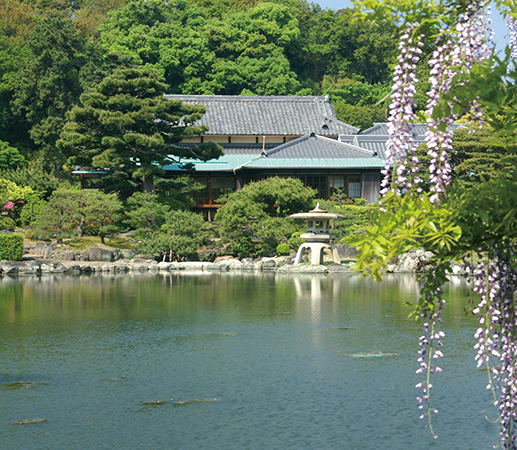 The Origins of Onzan-Soh
Born in Ehime Prefecture, Chojiro Nitta, who built this garden estate at the present site, was the founder of Nitta Leather Belting Co.Ltd. (now Nitta Corporation).In 1888,Nitta Corp. became the first Japanese company to succeed in manufacturers.
At Nitta's request,marshal Heihachiro Togo named this estate Onzan-Soh,after "Onzan",Nitta's nickname.
At first,Nitta used this retreat as a place to relax and recuperate.Later in his lefe,he opened it to the public.After his death,in accordance with his wishes,the Kotonoura Onzan-Soh-En Foundation was established and has managed the estate garden ever sinbce.
In 2010, the Agency for Cultural Affairs designated the garden as a place of national scenic beauty and the buildings as important cultural properties. In July 2011,the prefectural government certified the foundation as a public interest incorporated foundation.
Scenes of Soothing Beauty
Among the lovely pine trees of the garden, you can admire traditional Japanese-style buildings at your leisure,
Including the main building and the tea ceremony room.
Amid a tranquility highlighted by the occasional splash of a jumping fish,visitors can spend soothing hours sitting in a Japanese-style drawing room while enjoying a panoramic view of the garden.theis Japanese-style resort is often used as aplace for machmakeing meetings and engagement ceremonies.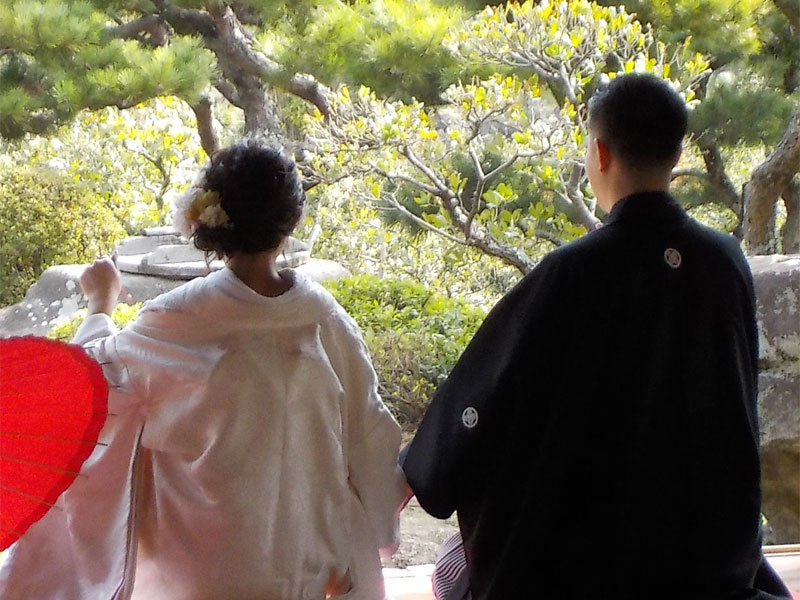 Tidal Strolling pond Garden
Built during a timeframe starting in the early taisho period(1912-1926) and through the early Showa period(1926-1989),the garden of Kotonoura Onzan-soh-En is a rate example of a tidal strolling pond garden.Filled by the sea,the water in the pond rises and falls with the tides. Construction of the garden was completed under the guaidance of Sosen Kizu Ⅲ,who served as deputy to the head of the Mushakoujisenke School of tea ceremony.Since its opening,many celebrities,including members of the Imperial family,have visited this garden,the largest in Kishu(now Wakayama Prefecture).The garden currently covers some 5.95 hectares. On an adjoining site stands the Wakayama Prefectural Museum of Natural History, a museum and aquarium. The Onko Densho-kan Sake Brewery Museum is located nearby in kuroe Town. With many other tourist destinations besides, this area is a wonderful place for a stroll.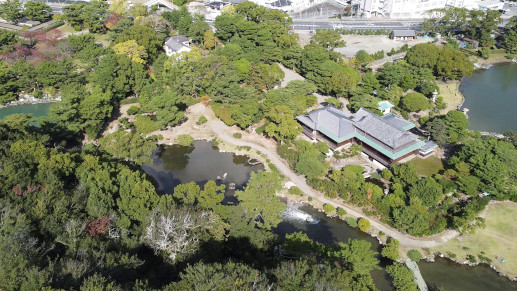 West Pond
Stepping stones in this pond and disappear with the shifting tides. Also found in this pond is Ruppia maritina, an aquatic Plant that grows only in clean brackish water and very rate in the Kansai region. It flowers around mid-April.


East Pond
This pond, where seawater and freshwater mix, is home to many fish, including grey mullet, srriped mullet, and goby.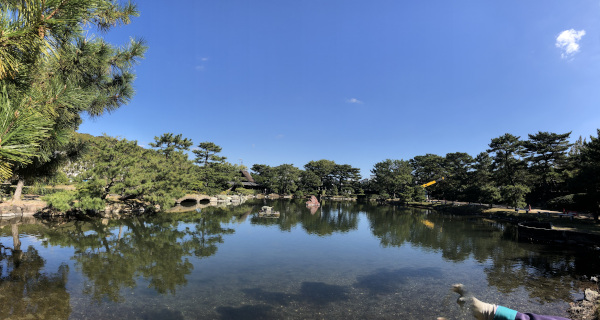 Lanterns
The garden features many stone lanterns.
Among them is the Maria Doro, a rare lantern bearing a caeved image of the Virgin mary. During the Edo period (1603-1867), when the Christian faith was banned, believers are said to have prayed in secret to this image. Another lantern bears a Chinese zodiac sign. Another lantern shows heart marks. One way to enjoy the garden is ti go looking for these particular lanterns.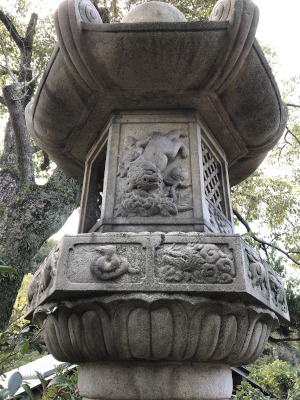 ① Front Gate
The front gate consists of Western-style concrete gateposts with iron gates, further flanked by another pair of gateposts.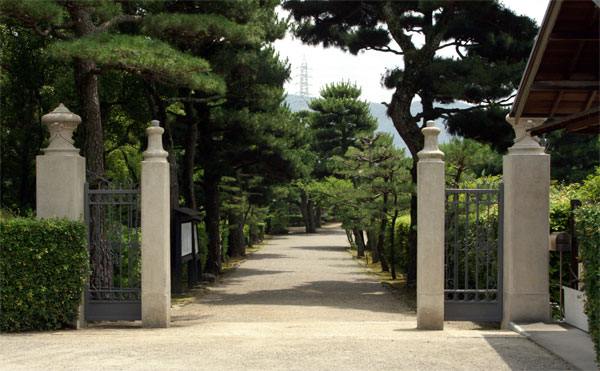 ② Bronze Stature of Mr. Chojiro Nitta
Born in present-day Matsuyama City, Ehime Prefecture, in 1857. Died in 1936 at the age of 80.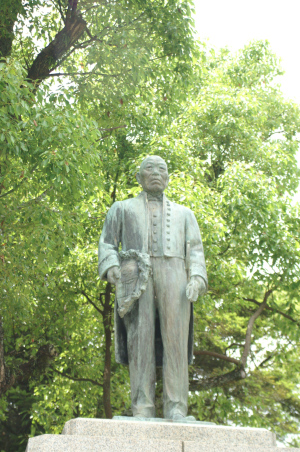 ③ Main Building
With a half-hipped roof and a hipped roof configured in a staggered design,this building creates a multifaced impression. It was designed by Shichiro Kigo, Japane's leading architect of prpminent figures : Duke Taro Katsuma, Marshal Heihachiro Togo,Count Keigi Kiyoura, and General Yoshifuru Akiyama. The open-work transoms above the sliding doors were carved by Unraku Aihara, a sculptor active in the early 20th century.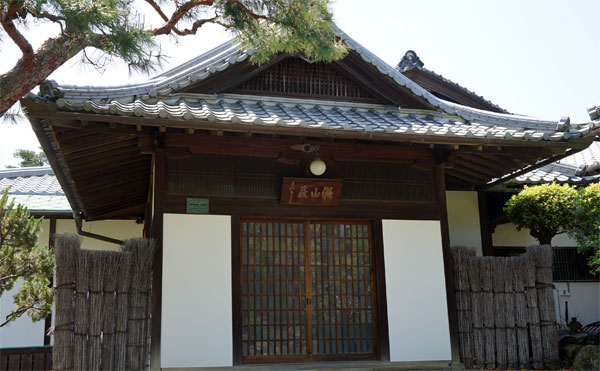 ④ Tomomachi Room
Built right next to the main building, this structure served both as a lounge and as a waithing room for rickshaw drivers. The building gives a sense of how guests were loged in a large-scale prewar residence.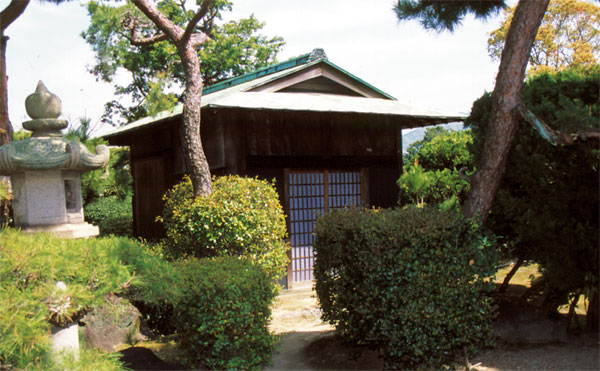 ⑤ North Wood Gate
This sukiya (tea-ceremony room)style gate is one of the attractions encountered when strolling about the gardens. The gate features gateposts of logs with traces of pruning and a low-piched roof made of clay tiles (center) and copper (eaves).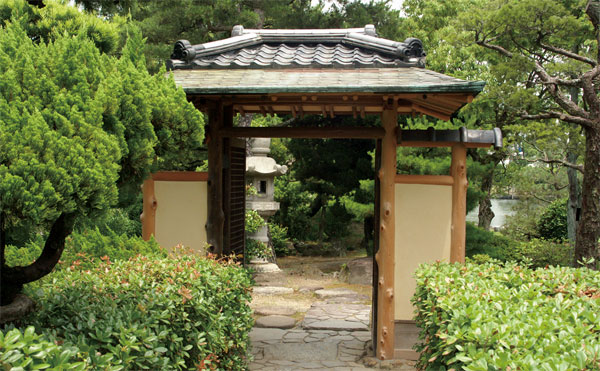 ⑥ "Kyoka-an" Tea-Ceremony Room
Featuring a thatched roof that creates a rustic impression, this structure was designed under the guaidance of Sosen Kizu of the Mushakoujisenke School of tea ceremony, who also provided guaidance in the design of the garden. The fence to the right is made of concrete formed to resemble wood.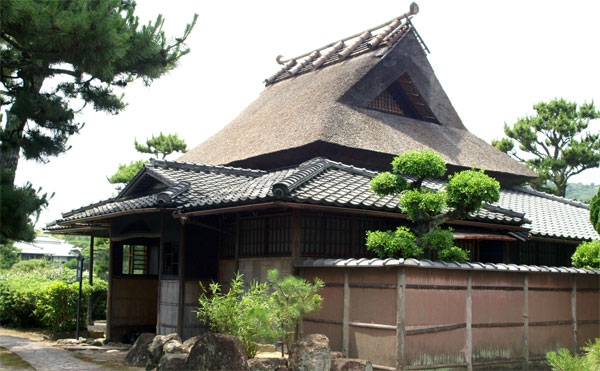 ⑦ Hama-zashiki (Beach room)
Standing at the southern end of the premises, Hama-Zasiki commands a view of Kuroe Bay. Built in 1913 as the ideal vantage point for looking out over the sea, Hama-Zasiki was the first building in Onzan-Soh-En. Before reclamation work began, the site had been a place for people to take in the vista of blue sky and sea sprending before them to their hearts' content.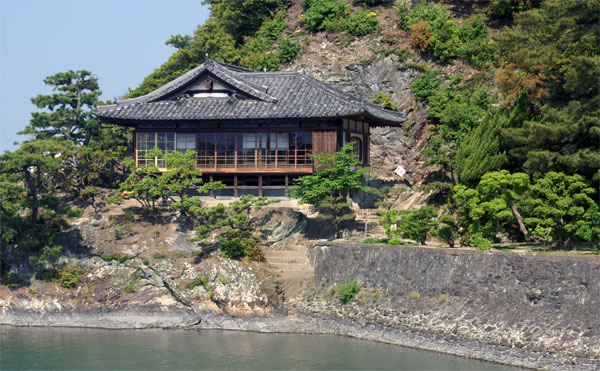 ⑧ Choju-Bashi Bridge
Formed from an immense blue boulder, this bridge is the largest of its kind in western japan.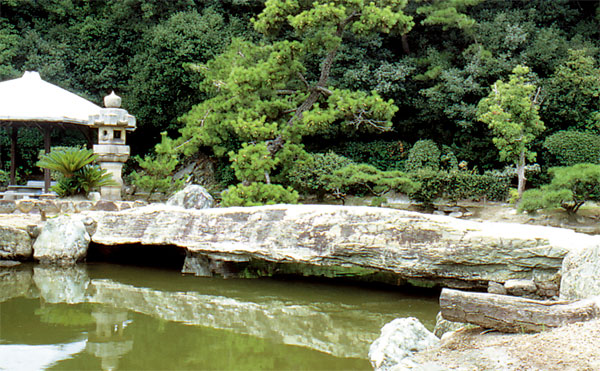 ⑨ South Wood Gate (the 'braided straw hat' gate)
Lacking actual gate doors, this structure is flanked on both sides by boundary-marking headges. The gate in the sukiya (tea-ceremony room) style features a curved crossbar and a roof made of closely spaced rafters in a style called amigasa-mon (literally, "gate shaped like a braided straw hat").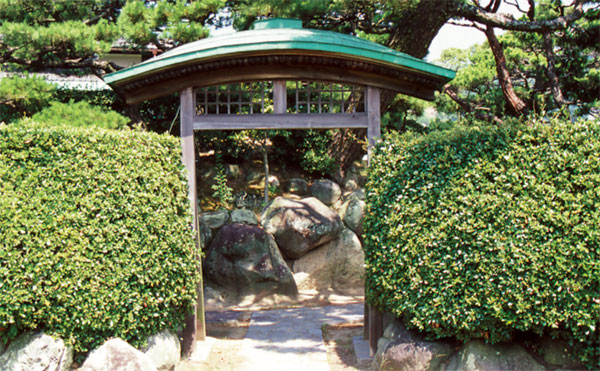 ⑩ West Wood Gate
This elaborately designed gate features a central portion of the roof raised above the eaves and covered with wider shingles with narrower shingles using straight-line roofing. The plaque on this gate reads "Jinsha muteki" (literally, "Men of virture are without enemies") .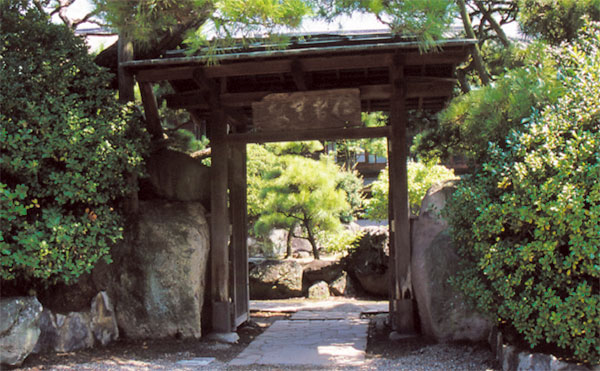 ⑪ Middle Wood Gate
Of the various gates scattered about the garden, this is the simplest. Nevertheless, its eave-end style and style of its hakomune (box-shaped roof ridge) design add a touch of originality.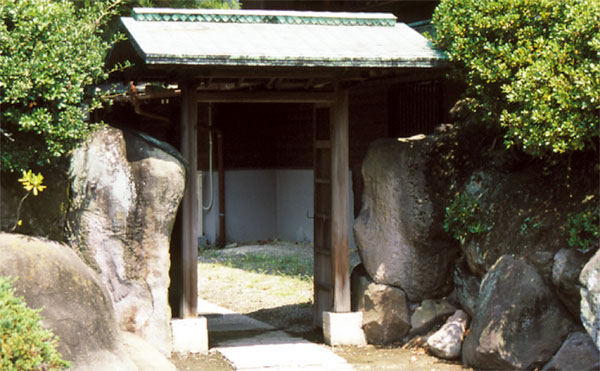 ⑫ Tunnel
The 37.7m long hand-drilled tunnel features a masonry arch entrance and an exit that once led to Chojiro's private beach.
It was created on yaoshima Island to funnel cool sea breezes to the garden.